In an increasingly competitive market, colleges and universities need to be thinking differently and innovatively about the spaces they create for learning and mentoring. Discover our educational building construction services.
As student demands and expectations continue to rise, we understand that leading-edge teaching facilities and high-quality accommodation are becoming increasingly important.
As a collaborative multi-disciplinary organisation, it is important that exi deliver and lead by example. We bring the most important requirement for success – firm and straightforward leadership and communication. We keep a constant eye on the organisational objective and implement tried and tested systems and processes that provide control, governance, and transparency to even the most complex, multi-faceted schemes.
Our multi-disciplinary team provides our Academic clients by offering the following:
Due diligence and property condition/audit services to identify key development issues
Development of business strategies, master planning and development assessments
Development of business strategies and plans with supporting feasibility/viability appraisals
Assemble a team with the right skills and scope
Full multi-disciplinary design service
Net Zero Advisory services
Digital and Smart Building management services
Advise on route to funding and support with application requirements
Management of the planning, design, procurement, and preparation of contract documentation
Stakeholder engagement
Contract administration and supervision services throughout the construction of the works
Technical and Operational Commissioning services
Post Completion Evaluation and In use and post-completion stage services
exi will work with you to determine how best to use new and existing space and we will work with the design and wider delivery team to produce unique refurbishment and new build solutions that contribute to excellent teaching and learning outcomes.
For a conversation on the solutions and value we can deliver, please get in touch. Learn more about our consultancy services for educational building construction.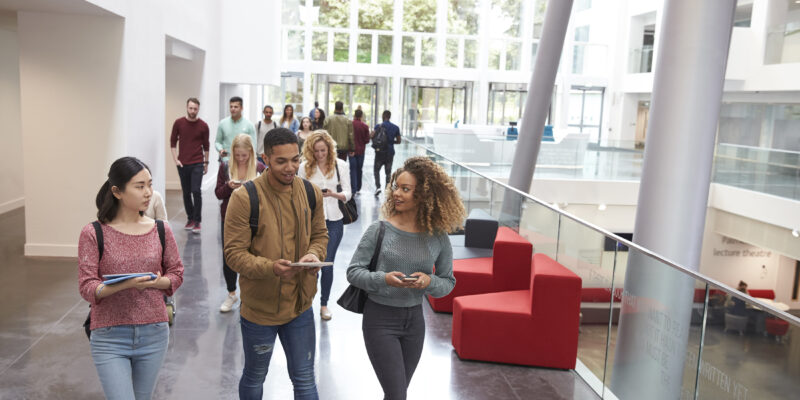 Our Higher & Further Education Work.