As part of a wider Programme of works, the Queen Elizabeth Hospital King's Lynn NHS Foundation Trust appointed exi to provide a true multi-disciplinary service to deliver the project from developing the business case, operational brief through to construction delivery at rapid pace!
Summary
Framework/Partnership // SBS Framework
Project Type // Newbuild (MMC)
The 2,508m2 development comprises of a new build endoscopy facility to ground floor, with office and future decant/expansion space at first floor.
Programme was a key driver for the delivery of this project, with an Emergency Funding Business Case being developed, processed, and approved by NHSEI in a 12 week process. Funding approval was granted in July 2021 and the project is on track to be delivered by April 2021.
To meet these challenging programme objectives, the team took a collaborative approach with a specialist modular contractor and utilised Modern Methods of Construction to improve efficiency in offsite manufacture and certainty in delivery.
The scheme is a QEH flagship building to promote the use of smart and digital technology to improve patient experience and help digitise operational outcomes for the service. The building will become an innovation hub for new technology within the estate and allow the trust to trial the 'Art of the possible' to support change management.
Service
The exi team were first appointed to support in the development of an emergency business case which included Strategic and Technical advisory, Business Case Authoring, Design, Project Management, Building Services and Cost Management to support.
Whilst approvals were being sought, we engaged our Healthcare Planning and Project management team to develop the Operational brief, which involved focused operational engagement, development of activity demand and capacity modelling, design briefing, Schedule of Accommodation, and an operational policy to set out the key requirements for the service.
Our digital management team supported the briefing process in developing a digital brief that delivered a digital design and construction process, enhanced the stakeholder engagement process through use of AR technology and scoped out a Smart solution that moved this building to a next generation hospital.
The multi-disciplinary technical team (consisting of Project Manager, Architect, building services, Digital management, Building Services, Cost Manager, Principal Designer) then developed the design and produced Employers Requirements to enable a swift procurement exercise and modular contractor/MMC specialise selected and appointed using JCT form of contract. The exi technical team supported the Trust with client-side monitoring and contract administration services throughout the construction phase through to technical/operational commissioning and delivery.
Added value & Outcomes
The project is a fantastic example of how the exi team came together to provide a true multidisciplinary service to support the end-to-end delivery in rapid time.
A key outcome that was achieved on this project was the successful approval of the £22.06m Emergency funding business case, in a record 12 week time frame. This included the development of the content, internal trust governance, liaison, and submission to NHSEI colleagues for a robust interrogation and approval. This swift process allowed maximum opportunity to deliver the remaining 8 month period to expend finances within the financial year.
The preconstruction period was well executed, and a suitable procurement strategy was adopted to ensure the scheme was delivered to budget and within the challenging timescales.
The project showcases the benefits of collaborating with specialist supply chain can bring benefits to such a scheme, evidenced using Modern Methods of Construction in the offsite construction and modular delivery.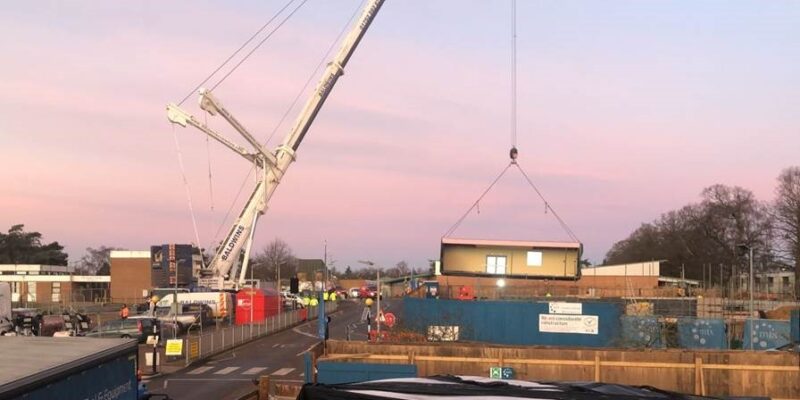 Key digital outcomes are as follows:
Enhanced stakeholder experience to improve decision making
Federated model, with asset data to improve estate management processes
Validated construction via LiDAR scanning to deliver as constructed models
App to adjust environment and the blinds for patient comfort
Background noise elimination to improve recovery time
Digital patient and visitor displays with downloadable content to improve communication
Digital room bookings feeding real time information to patients to improve communication and room management
Room utilisation monitoring to improve building and room management
Nurse bay smart boards to improve sharing and access to information
Staff movement monitoring to track and understand real time flow.
At the time of writing, the construction phase is currently underway and contract completion date is on plan for delivery in June 2022 (a 8 month construction period).