Programme/Pre-Consultation Business Case
Summary
Framework/Partnership // NHS SBS Framework & Strategic Partnership
Project Type // New Hospital Programme
Date Complete // Ongoing
Location // Nottingham, UK
As part of the Department of Health & Social Care's Health Infrastructure Plan (now recognised as the New Hospitals Programme), Nottingham University Hospitals NHS Trusthave been identified as a HIP2 scheme to deliver a long-term, rolling programme of investment in health infrastructure, including capital to build new hospitals, modernise their primary care estate, invest in new diagnostics and technology, and help eradicate critical safety issues in the NHS estate. This scheme has enabled the Trust to take forward their exciting Tomorrow's NUH reconfiguration programme.
Managing a service reconfiguration project on this scale is a significant undertaking and will need detailed planning to ensure the quality and safety of patient care is in no way compromised.
Each phase of the work would be carefully project managed to limit disruption, and as one of several schemes within the Government's New Hospital Programme for upgrading hospital estate, we will be able to benefit from the shared experience and learning of other Trusts undergoing similar reconfiguration work.
In addition, the Covid-19 pandemic has forced the NHS, including NUH, to accelerate the implementation of new and different ways of working such as digital consultations and some elements of care being provided in community settings. This will also stand us in good stead for the future, including ensuring service continuity through a period of reconfiguration.
This significant programme of work will extend over the next ten years+. In the coming months, working with the appointed design team, Programme colleagues, staff, partners, stakeholders, and patients; we will help shape a strategy and Programme Business Case Estates Annex that will:
enable NUH to provide the right care in the right location, transform their services and meet the commitments made in their corporate Strategy and Clinical Service Strategy, the NHS Long Term Plan and the vision for the Nottingham and Nottinghamshire Integrated Care System
incorporate the government's/NHP's latest agendas and modern practices such as Digital First, Net Zero Carbon, Modern Methods of Construction, single rooms targets and Hospital 2.0's 'kit of parts'.
address legacy issues that remain from merging two separate organisations, which impacts their ability to deliver modern care because of services split across sites or duplicated, spreading our staff and equipment too thinly. It will also support clinical best practice and fulfil our role as a regional centre; and
fix the poor condition of their estate which is at a high, or significant, risk of failing.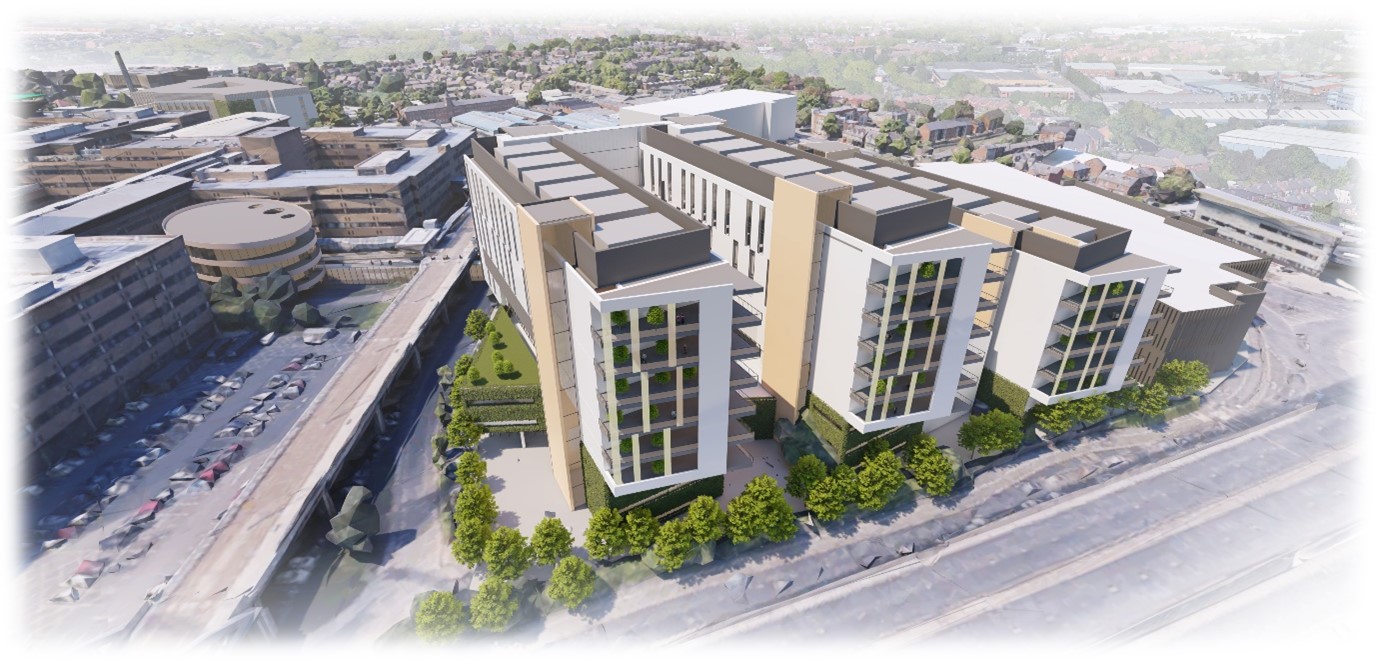 Service
Over the last 2 years, exi were appointed to support the Trust with multidisciplinary Estates and Technical advice as Technical Advisor, Estates annex Project Managers, Healthcare Planner, Digital management and Service Transformation advisor and look forward to continuing a pivotal role in the Tomorrow's NUH Programme. This will see the development of major business cases enabling the Trust to successfully secure significant capital investment to transform their future estate and clinical services.
exi Project Management deploy an iterative approach to the production of the estates annex as follows:
01
Capture the Operational brief
To inform the strategic and organisational fit of the future estate, the team needed to understand the future activity and capacity of "Tomorrow's NUH". Working with the wider programme stakeholders, the clinical Model of Care was developed and exi developed the activity demand and capacity modelling to make an informed decision about future capacity and size to inform a Schedule of Accommodation (SoA).
From the High-Level Planning Assumptions agreed, we developed an SoA which provided a baseline position to capture the "Operational Brief". This enables the team to assess the Design Brief and apply design strategies to several configuration "Options" for consideration against the Business Case, HMT Greenbook appraisal process.
02
Procurement of the Technical team
Much like the approach proposed for QEH's OBC, the exi project management team undertook a scoping and procurement exercise to support the Trust in appointing a team of competent advisors to support them with the various disciplines across the TNUH Estates annex. These roles included; Architects, MEP Engineers, NZC advisors, Highways and Transport Consultants, DQI assessors, Cost Managers and Planning Consultants.
03
Development of the Design Brief and Design Strategies
The design strategies for each of the options were developed to inform their performance against key clinical performance, capital cost and phasing and delivery criteria to identify a shortlist to be developed in further detail.
The shortlisted options were then refined further to generate a greater level of design detail against which the options could be further appraised and their considered against the critical success factors for the "Tomorrow's NUH" Programme.
04
Development of the Estates Annex
exi supported the TNUH Programme by leading the delivery of the Estates Annex throughout. Our Project Managers led a formal weekly meeting to maintain momentum throughout the process, provided the necessary rigour and professionalism enabling the team coordinate and progress the many components associated with such a complex programme of works. Our team provided the client's team with strategic and technical advice and took ownership in the collation and delivery of final Estates Annex outputs.
05
Outline Business Case for a 1500 space MSCP
To release prime development zones for proposed building works, a key enabling works package is the multistorey carpark. exi have provided multidisciplinary services to deliver an Outline Business Case and Estates Annex for phase 1 of the MSCP strategy, which will see 1500 carparking spaces (of a total 3000 space requirement) being delivered at QMC hospital site.
06
Short term master planning support
In addition to the above roles and development of the long-term estate strategy associated with the New Hospital Programme investments, exi are also providing Technical advisory services to develop the Trust's short-term masterplan to provide a clear and viable strategy to delivering key capital investments in the 3–5-year period.
07
Backlog Maintenance and Critical Infrastructure risk analysis
Given that NUH's backlog maintenance is one of the highest in the country at £437m, we recognise the need to have a strong and robust evidence base to support this value with detailed breakdown of calculations. The exi team have undertaken a series of 'deep-dive' surveys to the existing estates MEP and infrastructure to assess condition and compliance across key areas and systems. The findings from this series of surveys were captured in circa 60 technical reports and summarised to inform BLM calculations. Critical Infrastructure risk assessments were conducted to identify risks and priorities for investment, over short- medium- and long-term periods. This information continues to provide vital reassurance to NHSE and NHP colleagues as they undertake scrutiny across the Trust's £437m BLM calculations.