Lead by exi Project Management, the Arena project in Coventry was a multi-phased scheme across several spaces within the Arena complex which required accurate programming across several workstreams in order to deliver all works packages whilst maintaining a live environment with multiple occupants.
Summary
Framework/Partnership // Strategic Partnership
Project Type // Refurbishment-Fitout
exi Project Management partnered with Arena Coventry Limited to deliver a large showpiece Sports Bar ancillary spaces within the demise of the Stadia curtilage along with wholesale modernisation of existing exhibition spaces encompassing high quality finishes and the latest in AV Technology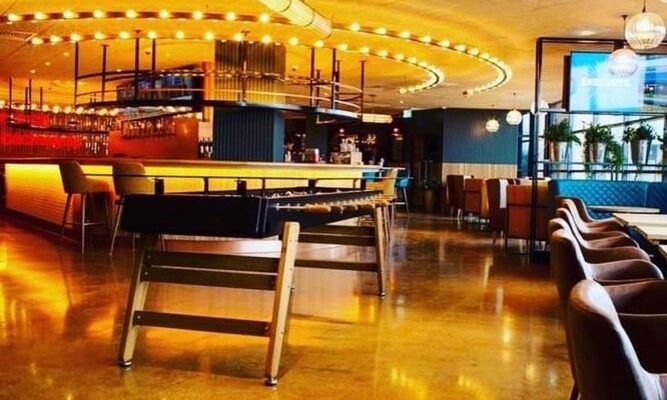 The scheme consisted of the design and delivery of a large show piece Sports Bar and ancillary spaces along with wholesale modernization of existing exhibition spaces encompassing high quality finishes and the latest in AV Technology.
With Arena Coventry we were fortunate to work with creative people who shared our vision, we have built a long lasting and trusting relationship with the team, clients and stakeholders. These relationships allowed us to push the boundaries to develop transformational, practical, and bespoke solutions.
.
Key Challenges
The Arena is a large arena complex with multiple tenants, hotel space and 24-hour casino. In delivering the Sports bar refurbishment which was on the ground floor below the hotel space and adjacent to the Arenas main access, segregation of the works was key. Business continuity had to be maintained throughout, and a phased solution was provided with business as usual maintained, along with demolitions, services isolations and noise disruptive works being undertaken out of hours. exi worked closely with the contractors to provide a solution that did not impact on the day-to-day business. Works segregation was maintained throughout working closely with other building users and landlord. In planning for the works exi considered the following key elements.
· Customer / Public experience and environment
· Security
· Segregation
· Sequence and Phasing
· Flexibility and adaptability
Outcomes
exi procured and managed all required services in order to deliver the projects and were the single point of contact for any queries from the client team. exi maintained Communication lines and governance arrangements and from a client's perspective, a turnkey approach to delivery to help ensure risk, change and costs were managed in a robust and properly considered manner.
exi needed to work closely with the clients' Incumbent suppliers and business line facilities teams to ensure the ICT; audio visual and catering equipment installations were integrated into the main works programme and commissioned accordingly. The project required a highly specified design to capture the clients' expectations. Given the environment, complex equipment interfaces with existing systems were required to ensure operational needs were met.
Across all project stages exi were committed to receiving client feedback and worked with them to provide an inspirational shared vision, committed leadership, quality driven agenda, timely decision making , setting key milestones, integration of process and team around the project, focus on the customer, tackling diverse and competing interest groups, sub-consultant performance management, regular minuted team meetings and workshops, checking of compliance and performance with regular communication at director level.