exi Group has worked with The Queen Elizabeth Hospital King's Lynn NHS Foundation Trust to deliver a new unit with smart technology at its core.
exi Digital Management
exi Digital Management deliver a unique set of services that take a holistic view of the digital landscape of a hospital to deliver solutions that complement the aspirations of the clinical model of care, information technology and data, plus the future smart estate. We add value to the estate planning process through the production of a digital operational brief working closely with healthcare planners. This manifests itself in the digital design brief informing the design team of the impact on the fabric within the building and finally digital design solutions that can be categorised as fabric, footprint and flow technologies.
Queen Elizabeth Hospital King's Lynn
The Queen Elizabeth Hospital (QEH) King's Lynn provides a comprehensive range of specialist, acute, obstetrics and community-based healthcare services to around 331,000 people across west and north Norfolk, in addition to parts of Breckland, Cambridgeshire and South Lincolnshire. The organisation has more than 4,000 staff and volunteers, and has approximately 530 inpatient beds, and a helipad for air ambulances.
QEH is a RAAC (Reinforced Autoclaved Aerated Concrete) hospital, which was built in 1980 and designed to last 30 years. 79% of the hospital buildings have RAAC planks that are now more than 40 years old and require ongoing monitoring and emergency repairs to reduce the risk of the planks failing and to maximise safety.
In 2021/22 the organisation was awarded £20.6m in emergency national capital funding to modernise the hospital, enabling them to install failsafes (to reduce the risk of RAAC plank failures) and further improve the safety of the current hospital and delivery of some services.
This funding also allowed QEH to undertake a number of important projects, including a new state-of-the-art Endoscopy Unit, to significantly modernise the hospital and further improve the experience of patients, their families, and staff.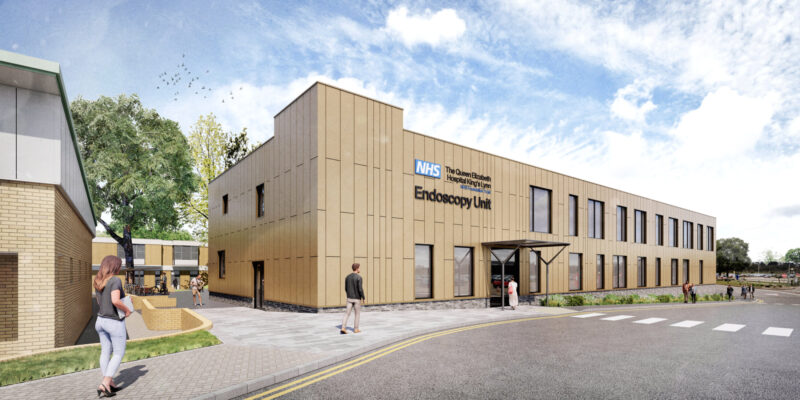 QEH Endoscopy Unit
The exciting development will modernise facilities for patients, their families and staff and will enable all endoscopies to take place in one unit. As well as ensuring this critical service has a new home, and the service is fully 'de-risked' from a RAAC planking perspective, the new unit will also create the operating theatre decant space needed in the main hospital to enable the Trust to start installing failsafe roof supports across the first floor on a rolling basis. This will further improve and maximise safety and improve the delivery of services.
The unit's development is critical to the overall programme delivery and therefore, speed and simplicity are key. As such, a fully modular solution manufactured off-site was considered the best option. Over 90% of this new-build unit will use modern methods of construction (MMC).
The new unit will be fully mechanically ventilated by a highly efficient ventilation plant which is low in fan energy, high in heat recovery and will provide heating, cooling and filtration. The endoscopy treatment rooms themselves have a dedicated ventilation plant that also keeps these rooms under negative air pressure to prevent cross-contamination from room to room.
The Trust recognises that its digital maturity is an area requiring investment and sees the potential of the new Endoscopy Unit as a vehicle to test and trial new innovations and technology to improve patient care and patient and staff experience. It is hoped that the new unit will become a 'Digital Flagship' for what could be implemented in a new hospital if QEH's bid to become one of the Government's eight new hospital schemes is successful.
New opportunities for digital ways of working will complement the other credentials of the building, including BREEAM (very good) and being constructed through modern methods of construction, to deliver a new breed of digital estate in line with the aspirations set out in the DOHSC's Health Infrastructure Plan.
This project was procured through the NHS SBS Construction Consultancy Services Framework and delivered by exi Group's multi-disciplinary team. The team took time to understand the challenges of the current physical estate, the opportunities to improve patient care and the time restraint inherent in the project. The team responded to these challenges and are delivering an MMC solution with their delivery partners.
The QEH digital flagship is the result of a collaborative process involving QEH's digital team, clinical staff and supply chain partners. The outcomes will support QEH's ambition to improve their digital maturity and estate management strategy.
The project has been delivered through a Building Information Modelling (BIM) process in line with the National BIM Framework. The contractor's design team delivered design models with asset data in line with the project Exchange Information Requirements (EIR) and Asset Information Requirements (AIR). The contractor team worked with a specialist BIM Provider to deliver BIM coordination services and achieve efficiency, accuracy, and reduced risk to the design process.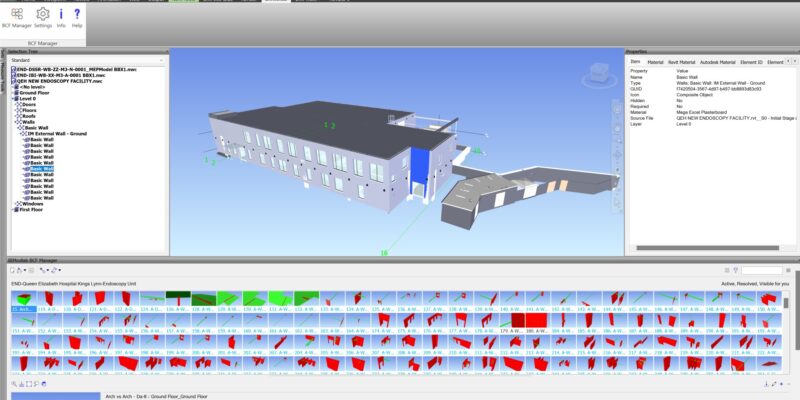 With the foundations of good information management in place, the building has embedded smart technology within its fabric, including:
Digital interactive information screens – bespoke endoscopy information screens located in waiting rooms will allow patients to download information to their mobile phones providing access to handy information about their consultant, health condition, procedure, and a map of the unit
Smart touch screens – will be located in nurse bay areas and will deliver improved communication and share patient and room information
Smart room sensors – will capture information impacting patient experience, for example light and temperature levels, and can also provide information on how frequently a room is used to communicate its weekly, monthly and annual utilisation
Live rooms – a signage and booking system will allow staff to immediately see the status of a room and quickly locate a suitable available room.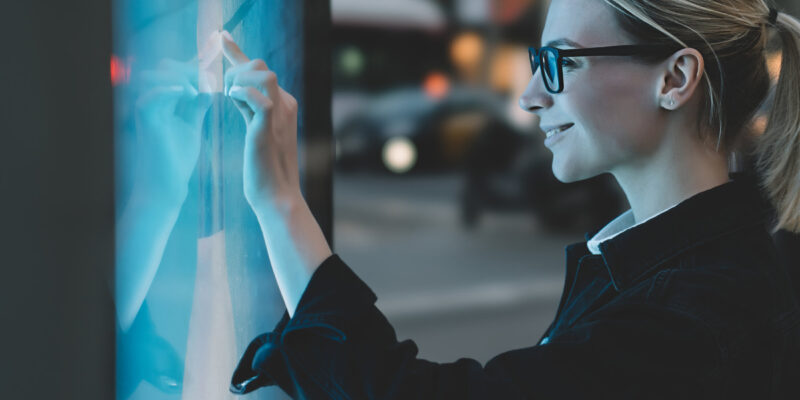 This flagship building will allow the QEH Estates Team to move away from their analogue estate and allow Computer-Aided Facility Management to be trialled. In addition, exi Group are developing an estate wide Digital First Approach Strategy with QEH which will deliver a more efficient facilities management service.
This is good news for our patients and staff – and is one of a number of important projects underway to modernise our hospital. Alongside this, we're continuing to progress our work to bring a new hospital for King's Lynn and West Norfolk.
exi are a multi-disciplinary consultancy who were appointed by QEH as Strategic Advisors, Project Managers, Cost Consultants, Design (architecture), Building Services and Digital Managers. Our multi-disciplinary offering delivered a solution that met QEH's brief and aspirations, budget, time constraints and demonstrated our core value – Excellence in Delivery.
Back to News